Italian Politicians Condemn Nutri-Score As Antithetical to MedDiet
Italian politicians continued their campaign to derail the adoption of Nutri-Score as the European Union's official front-of-pack labeling (FOPL) system at a recent series of events.
Italian officials once again criticized Nutri-Score as an overly simplistic way to evaluate food nutrition.
Italy is against food package labeling founded on traffic-light systems, such as Nutri-Score, which arise from a simplistic approach to nutrition without clear scientific evidence.– Luigi Di Maio, Italian Minister of Foreign Affairs
They again argued that the French-born FOPL only takes macronutrient contents into account and ignores micronutrients – such as vitamins, minerals and polyphenols – which are responsible for some foods' considerable health benefits.
The officials further accused Nutri-Score of misleading consumers and directly attacking the Mediterranean diet. Instead, the officials lobbied to adopt Nutrinform Battery, the Italian alternative that has also been widely criticized by its detractors.
See So: Health Professionals in France Endorse Widespread Adoption of Nutri-Score
The two platforms are competing to become the EU-wide standard for food labels, with the European Commission set to determine by the end of the year.
"Italy is against food package labeling founded on traffic-light systems, such as Nutri-Score, which arise from a simplistic approach to nutrition without clear scientific evidence," Luigi Di Maio, the Italian Minister of Foreign Affairs, told an audience of Italian scientists , farmers associations, food producers associations and national and European politicians.
"For instance, these systems' algorithms could attribute to natural foods such as milk worst ratings than those given to sugar-free carbonated sodas," he added.
The event, organized by the Ministry of Foreign Affairs and the food producers association Federalimentare, was supported by the major food and farming associations and several health groups devoted to the fight against obesity.
Michele O. Carruba, professor and president of the Center for Research on Obesity at the University of Milan, said that FOPLs, such as Nutri-Score, are not the answer to the obesity epidemic.
Carruba has examined 50 years' worth of data regarding obesity worldwide. He said the chronic illness has complex social and nutritional causes.
Carruba believes that categorizing foods as ​"good" or ​"bad" does not adequately address the underlying causes of obesity. Instead, he believes concepts such as the Mediterranean diet are better suited to combating obesity.
"[The Mediterranean diet pyra­mid shows] there are no bad or good foods, but only bad or good diets," he said. ​"The pyramid not only tells us how often we should eat specific kind of foods, but it also cites the suggested servings, the quantities which allow a balanced diet."
According to Carruba, one of Nutri-Score's most significant shortcomings is that it does not consider the portion sizes. Instead, Nutri-Score ratings are determined by the content of fats, sugars, sodium and calories per 100 grams or milliliters of a food item.
Carruba said that such standard quantities do not reflect the actual consumption and therefore cannot rate foods efficiently.
"None of us would use 100 grams of olive oil since the common serving ranges between 15 or 30 grams," he said. ​"Still, olive oil is rated on a 100 gram basis."
Carruba also believes Nutri-Score focuses more on the unfavorable contents of food than on its healthy qualities.
"Its algorithm attributes up to 40 negative points for contents with unfavorable effects and only 15 points at the most for the favorable part," he said.
Nutri-Score, whose color-letter labels range from the healthy ​"Green A" down to the ​"Red E," rates food as good or bad, said Carruba, ​"whereas the effect of food depends on the quantity and the frequency with which it is consumed."
The Italian scientist emphasized the relevance of proper nutrition and told delegates that Nutri-Score is ​"merely interpretative and non-educational, non-informative system, as it does not improve the consumer's knowledge or nutritional information."
"Furthermore, it does not provide any assistance in deciding the overall diet composition, nor does it facilitate in any way the appropriate combination of various foods," he added.
Vincenzo Salvatore, a professor of European law at the University of Insubria in Varese, said EU regulations describe two different kinds of supplementary food information that may be given to the consumer.
The first is additional information about the food itself. The second is the health claims, which suggest a correlation between a particular food and health.
"Health claims come from an estimate about the favorable or unfavorable effects of a given food," Salvatore said. ​"Any such assessment means that the consumers are being prompted with a given behavior."
According to Salvatore, Nutrinform Battery focuses on the information about food and the relevance of a single serving to an overall daily diet with its graphic scheme.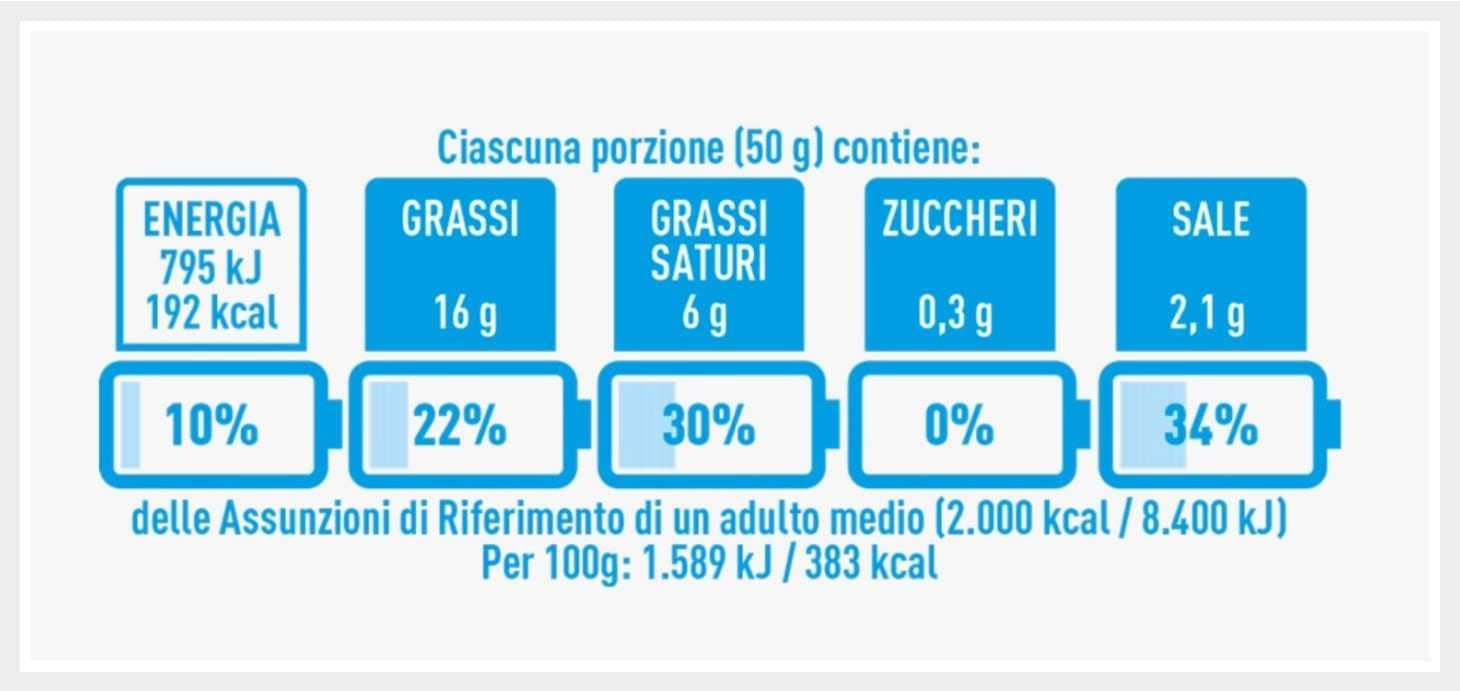 on the other hand ​"Nutri-Score is a health claim system which does not seem to be able to educate the consumers about a healthy diet," Salvatore said. ​"Instead, it prompts the consumer to buy a given product or discard another product based on an appreciation of its impact on health."
"One thing is to educate the consumer showing that if you buy a chocolate bar and eat a piece of that you will eat 30 grams of sugar, a different thing is to put on that bar a red traffic-light label saying that you should not buy it at all," he added.
Nutri-Score creator Serge Hercberg, a professor of nutrition at the Université Sorbonne Paris-Nord, told Olive Oil Times that the latest Italian criticisms directed toward the French-born front-of-pack labeling system do not stand.
"Nutri-Score has never been presented as a measure that in itself might be the answer to the obesity epidemic," he said. ​"Instead, it can play a role among the measures implemented by a public health nutritional policy."
"It is not a magic bullet, but as it has been demonstrated by several scientific studies published in peer-reviewed journals, Nutri-Score could potentially contribute to reducing obesity, chronic disease and mortality," he added.
Herberg emphasized his support for the Mediterranean diet, which he said: ​"has been the basis of the French nutritional recommendations for many years." Hercberg also reiterated how Nutri-Score is ​"totally consistent with MedDiet."
The goal of Nutri-Score is to help consumers compare the overall nutritional quality of foods that are relevant to be compared or else comparable in terms of use or consumption patterns.– Serge Herberg, Nutri-Score creator
"The MedDiet is characterized by abundant consumption of fruit, vegetables, legumes, cereals, especially wholegrain, moderate consumption of fish and limited consumption of dairy products and low consumption of meat, cold cuts and sweet, fatty and salty products," he said.
"It favors olive oil among added fats but does not recommend its consumption ad libitum," Herberg added. ​"The Mediterranean diet does not, therefore, under any circumstances, as the Italian arguments suggest, promote cheeses and processed meats, whether Italian or not."
Herberg also pointed out that many studies confirm the science behind the development and deployment of Nutri-Score. For example, he cited epidemiological studies from France (SUVIMAX, NutriNet-Santé), Spain (SUN and ERICA cohorts) and Europe.
Herberg also refuted the idea that the Nutri-Score algorithm does not rate foods as bad or good.
"It is a gradual FOPL with five categories presented in colors and letters, which allow consumers to compare the nutritional quality of foods in relative terms and not in absolute value," he said.
"The goal of Nutri-Score is to help consumers compare the overall nutritional quality of foods that are relevant to be compared or else comparable in terms of use or consumption patterns," he added.
According to Hercberg, focusing on 100 grams or milliliters instead of a single serving of specific foods is ​"based on both conceptual, pragmatic, scientific and public health arguments."
"What is useful for consumers is to be able to compare different breakfast cereals, to identify those with the best nutritional quality," he added. ​"Or to compare different vegetable oils or other added fats, or compare different cheeses, different pizzas and different cookies."
"Finally, for a specific occasion of consumption, let us say breakfast, it is helpful for consumers to be able to compare the differences of nutritional quality between foods usually consumed at this occasion: bread, as refined-grain or whole-grain bread, brioches , breakfast cereals, cookies or rusks," Herberg continued.
Therefore, Hercberg said, a ​"simple, objective and standardized common denominator" is needed to allow consumers to recognize at a glance food that exhibits the most favorable nutritional composition compared to others.
According to Hercberg, a standard serving does not exist as it depends on many variables such as age, sex and other conditions of the consumers.
"Many studies have shown that consumers have difficulty in assessing the amount corresponding to a serving accurately," he concluded.
For the 55-and-over crowd, March 27-April 3, 2022 | Local News
For information about services available to older adults, contact Pam Jacobsen, director of the Retired and Senior Volunteer Program and Helen Mary Stevick Senior Citizens Center, 2102 Windsor Place, C, at 217-359-6500.
RSVP and the Stevick Center are administered by Family Service of Champaign County.
ANNOUNCEMENTS
Active Senior Republicans in Champaign County's monthly meeting will be held at 9:30 am on April 4 in the Robeson Pavilion Room A & B at the Champaign Public Library. This month's speakers will be Jesse Reising, Regan Deering and Matt Hausman, Republican primary candidates for the newly redrawn 13th Congressional District.
Parkland Theater House needs four ushers each night for "The SpongeBob Musical," opening April 14. There will be nine shows in total — April 14-16, April 22-24 and April 29-May 1. For details, call or email Michael Atherton, Parkland Theater House Manager, theatre@parkland.edu or 217-373-3874.
Parkland College also needs four volunteers for commencement. The commencement ceremony will be in person at Krannert Center for the Performing Arts at 8 pm May 12. Volunteers needed from 6:30 to 8 pm For details, contact Tracy Kleparski, Director of Student Life, at TKleparski@parkland.edu or 217- 351-2206.
The Milford High School National Honor Society and Student Council is hosting a Senior Citizens Banquet at 6 pm April 22. The event will be held in the MAPS #124 Gymnasium (park at south doors at Milford High School. To RSVP, call Sandy Potter at 815-471-4213.
STEVICK CENTER ACTIVITIES
Knit or crochet for those in need:
Meditative Movement with Yoga:
9 to 10:15 am Tuesdays and Thursdays.
Bingo:
11 am to noon, second and fourth Tuesdays. Call 217-359-6500.
Bridge:
Euchar:
Card game 13:
To sign up to play, call 217-359-6500 and ask for Debbie.
Men's group:
9 am Monday-Friday. Join us for a cup of coffee and great conversation.
HOT LUNCH PROGRAM
The Peace Meal Nutrition Program provides daily hot lunches at 11:30 am for a small donation and a one-day advance reservation at sites in Champaign, Urbana, Rantoul, Sidney (home delivery only), Mahomet (home delivery only) and Homer.
For reservations, call 800-543-1770. Reservations for Monday need to be made by noon Friday.
NOTE: There is no change for home deliveries, but at congregate sites, you can get a carry-out meal.
Sunday:
BBQ pork sandwich, mini potato bakers, corn, creamy cole slaw, bun.
Tuesday:
Turkey pot roast with carrots and celery, Italian green beans, pineapple, whole grain roll.
Tuesday:
Savory sausage stew, broccoli, chunky apple sauce, biscuit, surprise dessert.
Tuesday:
Meatloaf, mashed potatoes and brown gravy, tomatoes and zucchini, apricots, whole-grain roll.
Friday:
Chef's choice — regional favorites will be served.
VOLUNTEER OPPORTUNITIES
If you are 55 and older and want to volunteer in your community, RSVP (funded by AmeriCorps Seniors and the Illinois Department on Aging) provides a unique link to local nonprofits needing help. We offer support, benefits and a safe connection to partner sites.
Contact Pam Jacobsen at rsvpchampaign@gmail.com or 217-359-6500.
CURRENT NEEDS
Senior Volunteers.
RSVP of Champaign, Douglas and Piatt counties/AmeriCorps Senior Volunteers is your link to over 100 nonprofit organizations. Please contact Pam Jacobsen at rsvpchampaign@gmail.com or call 217-359-6500 for volunteer information.
Food for seniors. Handlers needed to unload boxes of food for repackaging at 7 am on the second and fourth Tuesdays of the month. We are looking for backup delivery drivers to deliver food to seniors. Contact Robbie Edwards at 217-359-6500 for info.
The future of nutrition advice
By Lisa Drayer, CNN
(CNN) — Most of us know we should eat more fruits, vegetables and whole grains.
So why would the National Institutes of Health spend $150 million to answer questions such as "What and when should we eat?" and "How can we improve the use of food as medicine?"
The answer may be precision nutrition, which aims to understand the health effects of the complex interplay among genetics, our microbiome (the bacteria living in our gut), our diet and level of physical activity, and other social and behavioral characteristics.
That means that everyone could have their own unique set of nutritional requirements.
How is that possible? I asked three experts who conduct precision nutrition research: Dr. Frank Hu, professor of nutrition and epidemiology and chair of the Department of Nutrition at the Harvard TH Chan School of Public Health, and Martha Field and Angela Poole, both assistant professors in the division of nutritional sciences at Cornell University's College of Human Ecology.
Below is an edited version of our conversation.
CNN: How is precision nutrition different from current nutrition advice?
dr Frank Hu: The idea of ​​precision nutrition is to have the right food, at the right amount, for the right person. Instead of providing general dietary recommendations for everyone, this precision approach tailors nutrition recommendations to individual characteristics, including one's genetic background, microbiome, social and environmental factors, and more. This can help achieve better health outcomes.
CNN: Why is there no one-size-fits-all prescription when it comes to what we should be eating?
Huh: Not everyone responds to the same diet in the same way. For example, given the same weight-loss diet, some people can lose a lot of weight; other people may gain weight. A recent study in JAMA randomized a few hundred overweight individuals to a healthy low-carb or low-fat diet. After a year, there was almost an identical amount of weight loss for the two groups, but there was a huge variation between individuals within each group — some lost 20 pounds. Others gained 10 pounds.
Martha Field: Individuals have unique responses to diet, and the "fine adjust" of precision nutrition is understanding those responses. This means understanding interactions among genetics, individual differences in metabolism, and responses to exercise.
CNN: How do we eat based on precision nutrition principles now?
Huh: There are some examples of personalized diets for disease management, like a gluten-free diet for the management of celiac disease, or a lactose-free diet if you are lactose intolerant. For individuals with a condition known as PKU (phenylketonuria), they should consume (a) phenylalanine-free diet. It's a rare condition but a classic example of how your genes can influence what type of diets you should consume.
Angela Poole: If I had a family history of high cholesterol, diabetes or colon cancer, I would increase my dietary fiber intake, eating a lot of different sources, including a variety of vegetables.
fields: If you have high blood pressure, you should be more conscious of sodium intake. Anyone with a malabsorption issue might have a need for higher levels of micronutrients such as B vitamins and some minerals.
CNN: There is research showing that people metabolize coffee differently. What are the implications here?
Huh: Some people carry fast caffeine-metabolizing genes; others carry slow genes. If you carry fast (metabolizing) genotypes, you can drink a lot of caffeinated coffee because caffeine is broken down quickly. If you are a slow metabolizer, you get jittery and may not be able to sleep if you drink coffee in the afternoon. If that's the case, you can drink decaf coffee and still get the benefits of coffee's polyphenols, which are associated with decreased risk of heart disease and diabetes without the effects of caffeine.
CNN: How much of a role do our individual genes play in our risk of disease? And can our behavior mitigate our disease risk?
Huh: Our health is affected by both genes and diets, which constantly interact with each other because certain dietary factors can turn on or off some disease-related genes. We published research showing that reducing consumption of sugary beverages can offset the negative effects of obesity genes. That's really good news. Our genes are not our destiny.
Another area of ​​precision nutrition is to measure blood or urine metabolites, small molecules produced during the breakdown and ingestion of food. For example, having a higher concentration of branched-chain amino acids (BCAAs) strongly predicts one's future risk of diabetes and cardiovascular disease. The blood levels of BCAAs depend on individuals' diet, genes and gut microbiome. We found that eating a healthy (Mediterranean-style) diet can mitigate harmful effects of BCAAs on cardiovascular disease. So measuring BCAAs in your blood may help to evaluate your risk of developing diabetes and cardiovascular disease and encourage dietary changes that can lower the risk of chronic diseases down the road.
fields: The environmental effects can sometimes be on the same magnitude as the genetic effects with respect to risk for disease.
CNN: Our individual microbiomes may be able to dictate what type of diet we should be consuming. Can you tell us about this emerging research? And what do you think of microbiome tests?
Poole: Research has shown that in some people, their blood sugar will spike higher from eating bananas than from eating cookies, and this has been associated with microbiome composition. Scientists have used microbiome data to build algorithms that can predict an individual's glucose response, and this is a major advance. But that's not an excuse for me to shovel down cookies instead of bananas. Likewise, if the algorithm suggests eating white bread instead of whole-wheat bread due to blood glucose responses, I wouldn't just eat white bread all the time.
At the moment, I'm not ready to spend a lot of money to see what's in my gut microbiome… and the microbiome changes over time.
Huh: Microbiome tests are not cheap, and the promise that this test can help develop a personalized meal plan that can improve blood sugar and blood cholesterol … at this point, the data are not conclusive.
CNN: How will nutrition advice be different 10 years from now?
Poole: I think you will receive a custom-tailored grocery list on an app — foods that you want to buy and foods that you want to avoid, based on your blood sugar responses to foods, your level of physical activity and more.
Huh: We will have more and better biomarkers and more affordable and accurate nutrigenomics and microbiome tests as well as better computer algorithms that predict your response to food intakes.
But these technologies cannot substitute general nutrition principles such as limiting sodium and added sugar and eating more healthy plant foods. In a few years, you may be able to get a more useful response from Alexa if you ask her what you should eat — but like other answers from Alexa, you'll have to take it with a grain of salt.
The CNN Wire
™ & © 2022 Cable News Network, Inc., a WarnerMedia Company. All rights reserved.
Are Peanut Butter and Jelly Sandwiches Healthy?
In order to assess its nutritional value, first we must discuss the breakdown of this sandwich.
Typically, there are three main ingredients — bread, peanut butter, and jelly — each with different nutritional values.
Nutritional value of bread
Bread can be a part of a balanced diet. The nutritional value of bread depends on the type chosen.
For starters, whole-grain bread is the best option because it provides a higher amount of nutrients. Whole grain kernels have three parts: the bran, endosperm, and germ (1).
Because whole grain bread retains all three parts, it's higher in protein and fiber compared with other breads. These nutrients slow the absorption of sugar into your blood stream and keep you full longer (2, 3).
Whole grain bread is also richer in key nutrients, like B vitamins, iron, folate, and magnesium. Look for the word "whole" as part of the first ingredient in bread's nutritional label (2).
Choosing sprouted grain bread, like Ezekiel bread, is also an excellent choice. The sprouting process increases digestibility and bioavailability of nutrients. Studies show sprouted bread has more fiber, vitamin E, and vitamin C, and beta-glucan (4).
Sourdough bread is fine, too. Although it's not as high in fiber and protein, it has a lower glycemic index than white bread.
Glycemic index measures how quickly food increases blood sugars. In general, foods with a lower glycemic index better support your overall health.
But keep in mind that glycemic index doesn't tell the whole story. We must look at the meal as a whole — for example, what we add to the bread. Nutrients, like protein and fats, can help lower the overall glycemic load of a meal, and serving sizes also play a role (5).
As a guideline, look for whole grain breads that offer at least 2 grams of fiber per slice. We also suggest using bread that contains 3 grams of protein or more per slice.
If that's not available, sourdough bread may be your next best option.
Summary
Choose breads that are higher in fiber and protein, like whole grain bread or sprouted grain bread. These varieties help slow absorption of sugars and keep you full longer.
Nutritional value of peanut butter
Many people find peanut butter delicious.
Nutritionally, it also delivers. Peanut butter is a good source of protein and healthy fats, important for all stages of life, especially growing children. Plus, it's a good source of fiber.
Two tablespoons (32 grams) of smooth peanut butter contain 7 grams of protein, 16 grams of fats, and 2 grams of fiber (6).
Importantly, the majority of fats in peanut butter are unsaturated fats. Research consistently indicates that replacing saturated fats found in animal products with more unsaturated fats (like those in peanut butter) may lower cholesterol and improve heart health (7, 8).
For growing kids, healthy fats are vital for healthy development. Plus, fats help absorb the vitamins A, D, E, and K, all of which play a synergistic role in supporting immune and brain health (9, 10).
Contrary to popular belief, conventional peanut butter doesn't usually have more sugar than 100% natural peanut butter. However, it may have more salt (6).
When shopping, check the nutrition labels to ensure it doesn't contain additional ingredients other than peanuts.
When enjoying natural peanut butter, the oil will separate from the peanut butter. Not to fret — just give it a good stir! This helps mix the oils with the solids.
Pro tip: You can store peanut butter upside down in the fridge to keep it from separating again!
Summary
When available, choose 100% natural peanut butter, as it's lower in salt. Remember to stir the peanut butter before eating to mix the oils with the solids.
Nutritional value of jelly
The PB&J sandwich isn't complete without jelly or jam. What's the difference, anyway?
Well, while jellies and jams have similar nutritional value and taste, there's a slight difference: Jellies are made with fruit juice, while jam is made with the fruit juice and pulp (7).
Both jellies and jams contain pectin (artificially added to jelly), which has prebiotic effects that may improve gut health (8).
However, both are naturally high in sugar, so enjoy them in moderation. To have more say in the ingredients used, you can try making your jelly at home.
If you're buying from a store, look for jellies with no added sugar in the ingredients list. Alternative names for added sugars include glucose, sucrose, dextrose, and fructose.
Summary
Jellies are high in natural sugars and contain pectins that may have a beneficial effect in promoting good health. Try to choose jellies with no added sugars.